CHISTANN design eco-coffin in a box
CHISTANN the new eco-coffin, contemporary and affordable!
Designed for families who prefer to be involved in arranging a funeral.
CHISTANN - The affordable design coffin
Forget about the traditional boring coffin offered by most funeral directors. CHISTANN is the new Dutch Design coffin made of modern sustainable materials and is suitable for cremation and burial. Sleek design and the light untreated wood creates a contemporary look. A real design coffin.

Unique design detail! The lid is closed in 2 parts, which is convenient during viewings.
The affordable eco-coffin - a wooden coffin for a similair price of a cardboard coffin
A real eco-coffin for the price of the commonly used non-eco coffin or a cardboard coffin. The CHISTANN eco-coffin is made of sustainable plywood and is lined with unbleached natural cotton. The coffin handles are even made from residual wood from the production. The entire coffin is biodegradable and not harmful when cremated.

It's nice to know that we can also mind our environment at a funeral without having to spend extra money for it.
A modern functional coffin, easy to make it more individual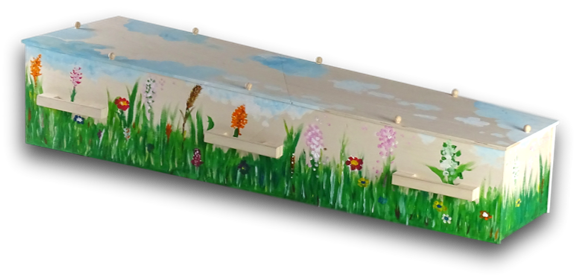 The CHISTANN is delivered directly to the family by parcel services in a compact box, economical and discrete. And just like a simple 'IKEA cabinet', the CHISTANN is quickly and easily assembled without tools and special skills.

In this way, the coffin becomes part of the bereavement. Assemble it together, decorate it with paint or choose a photoprint theme to make a funeral even more personal.

Eco + lower impact on the environment
The CHISTANN is designed to waste as little as possible in several ways. Less consumption of solid wood, less transport volume and therefore considerably less CO2 emissions from factory to use. And functional, no expensive solid wood and furniture finish for a coffin that is painted or covered with flowers and then buried or burned.
And much parties involved. That saves you money!

Safe and reliable, weight capacity tested up to 200kg
A flat pack coffin in a compact box of only 120 cm height. The coffin is combined out of two shorter segments, but due to it's unique design very strong and safe. When the CHISTANN is assembled according to the instructions, then the coffin is very strong and a weight of 120 kg can be safely carried. We even tested the load capacity up to 200 kg without any weakening of the construction and sturdiness of the 6 handles.

For cremation & burial
We have been designing and producing coffins for years and we understand exactly what a good coffin for burial and cremation must meet. The CHISTANN is therefore undoubtedly suitable and accepted by crematoria and cemeteries (our reference is the Netherlands). Several CHISTANNs are already used in green burial sites.




The CHISTANN was recognized by GIO during the Dutch Design Week in 2017 and has acquired the accreditation 'Good Industrial Design' for design and functionality.